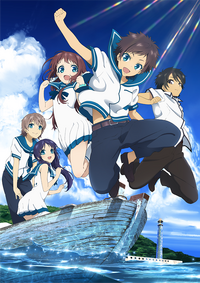 Nagi no Asukara (凪のあすから, Nagi no Asukara? lit. From the Lull of Tomorrow) is an original Japanese anime television series by Project-118 and produced by P.A. Works. The anime began airing on October 2013.
"Long ago, all the humans lived in the ocean.
But some who longed for the land abandoned the ocean,
casting off the special raiments granted to them by the sea god to adapt them to life under the sea..."
Main article: List of Nagi no Asukara Episodes
The original TV anime series is directed by Toshiya Shinohara and written by Mari Okada, produced by P.A.WORKS and Nagi no Asukara Production Committee. The original broadcast began on October 3, 2013 until April 3, 2014 on Animax, Tokyo MX, and streaming on Bandai Channel.
The manga adaptation of the series illustrated by Risō Maeda is based on the TV anime series, serialized on ASCII Media Works' magazine Dengeki Daioh with tankōbon books and an official anthology released under Dengeki Comics NEXT label. A 4-koma comedy spin-off written and illustrated by Anko Chatō serialized on Dengeki Daioh-G. An official 4-koma anthology released by Dengeki Comics EX also has been released on released on January 27, 2014.
The music is produced under the label Geneon Universal Entertainment Japan, later known as NBCUniversal Entertainment Japan per December 2013. The main soundtrack is composed by Yoshiaki Dewa, with cooperation by Zentarō Watanabe, Saigenji, DEPAPEPE (Yoshinari Tokuoka, Takuya Miura), and Shunsuke Kawada. The first soundtrack album released on April 23, 2014 and the second album will be released on June 25, 2014.
The image song of the anime series titled "Lull-nagi-" (凪-nagi-, "Lull-nagi-"?) by Ray was included on her first studio album "RAYVE." For the first cour, the opening is "lull~And We Are~" (lull~そして僕らは~, "lull~And We Are~"?) by Ray and the ending is "Aqua Terrarium" (アクアテラリウム, "Aqua Terrarium"?) by yanaginagi. For the second cour, the opening theme is "ebb and flow" by Ray and the ending theme is "Trefoil Knot" (三つ葉の結びめ, "Trefoil Knot"?) by yanaginagi. For Episode 26, the insert song is "mnemonic" performed and produced by yanaginagi, included as the second track on "Aqua Terrarium" single while the ending is a re-arrange of "lull~And We Are~" titled "lull ~Earth color of calm" by Ray and will be included on her second album "Milky Ray."
Web Radio
Edit
A web radio titled "Nagi no Asukaradio" (凪のあすからじお, "Nagi no Asukaradio"?) started streaming on Onsen and Hibiki-HiBiKi Radio Station- starting September 25, 2013 with updates every Wednesday. The personalities are Kana Hanazawa for Part One and Three, Ai Kayano for Part One - Three, and Mikako Komatsu for Part Three.